Personalized, not pre-made.
The EXERPRISE app combines years of experience and AI to generate UNIQUE WORKOUTS & MEAL PLANS that fit your life.
Get the App for

FREE
Personalized, not pre-made.
The EXERPRISE app combines years of experience and AI to generate UNIQUE WORKOUTS & MEAL PLANS that fit your life.
Get the App for

FREE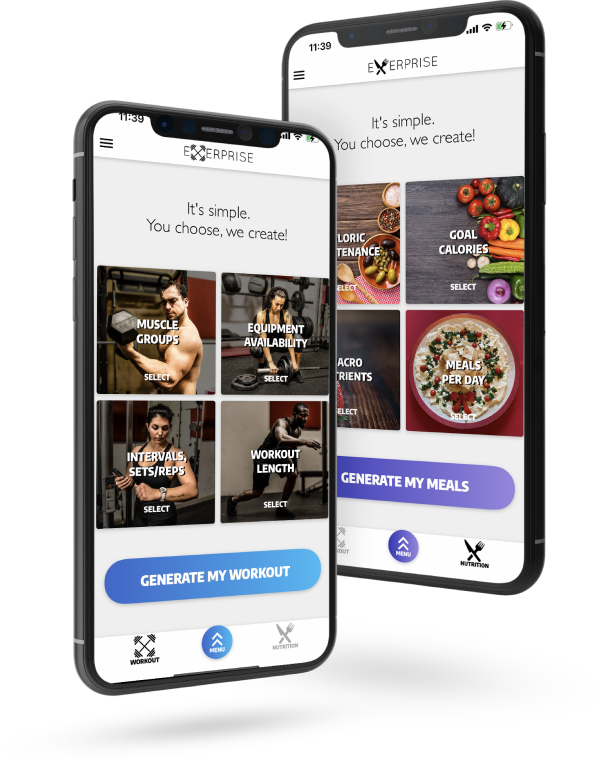 What is EXERPRISE?
Exerprise is an all-in-one health app that uses AI Technology to

Get Unique Workouts

Custom Meal Plans

Calculate Calories
EXERPRISE IS EASY TO USE
For Exercises
Select the Muscle Group you want to target
Check Available Equipment or Bodyweight
Choose Desired Intervals, Sets, or Reps
Determine Workout Length
For Meal Plan
Specify your Caloric Maintainance
Input your Goal Calories
Set your desired Macro Nutrients
Choose how many Meals Per Day
Gym Membership $60/month
Personal Trainer $50/session
Personal Nutritionist $100/hour

$10/per month for premium access.
WHAT PEOPLE SAY ABOUT EXERPRISE
Brilliant application. Cheers to anabolic aliens. The slogan is you choose, we will create. The description could not be any clearer. You choose the body part/s, equipmemt you have available and boom. A workout designed for you. Great for workout from home, for beginners and intermediates. I wish i could double or triple my circuit, as per my ability.
I have had been using this app for about a year, and it has been extremely useful for me. There are a wide variety of exercise options for each body part, and the equipment options are excellent for optimizing workouts no matter what equipment is available.I really love this app for its variety and versatility, and this app is worth downloading even without paying for the full version.
I love this app. Really well built and easy to use. I'd recommend to everyone. My only issue is sometimes I am rushing in between exercises to set up my equipment. For example, I use resistance bands and I often need to change the angle after exercises and it doesn't let me really enjoy my rest time. But this is me being difficult
Easily the best app I've found out there for these types of workouts. I wanted something simple that allowed me to select the type of equipment I had at home and this is perfect. A little more randomness in the routines would be good and it would be nice if they showed the "how to" portion for the next workouts during the pauses but those are small gripes.
Very solid, the free program for generating workouts is really incredible! It's easy to use, adjust, and has plenty of alternative exercises. The other premium content can also be checked out ahead of time by looking in the library section, so you don't buy it and get confused because of preconceptions. No better place to get read to get your gains than here Aliens!
EXPERIENCE EXERPRISE
Customized | As unique as yourself.
With thousands of drills and recipes always available on our database, you can choose and do what works for you.
Convenience | No fuss - so you can focus.
You can create a personalized workout routine with whatever equipment you have, and however long you want.
Control | Your body, your rules.
Exerprise understands that you can't be boxed in a one-size-fits-all workout and diet routine.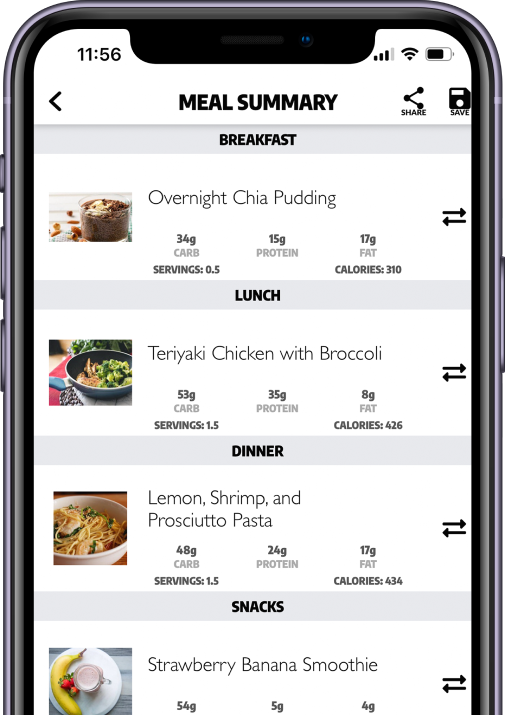 EXERPRISE will help you find a way to be healthy.
With EXERPRISE, you can generate workouts that could be as short as 10-15 mins!
15 minutes of exercise a day is enough to:
Click any icon to learn more.

Regulate Weight
When you're active for at least 15 minutes a day, your body burns calories that otherwise would have been stored as fat.

Increase Energy
Physical activity promotes blood flow all over your body for cell repair, tissue growth, and energy production.

Strengthen Bones
Bones weaken over time, but strength training can help slow, or may even reverse the symptoms of bone aging.

Reduce Back Pains
Consistent physical activity relieves stiff back muscles. It also promotes good posture and overall body balance.

Promote Better Sleep
Moderate aerobic exercise promotes longer durations of slow-wave sleep or deep sleep, where the brain and the body actually rejuvenate.

Improve Sex Endurance
Apart from a lower risk of erectile problems, regular physical exercise is linked to improved sexual function and greater satisfaction for both sexes.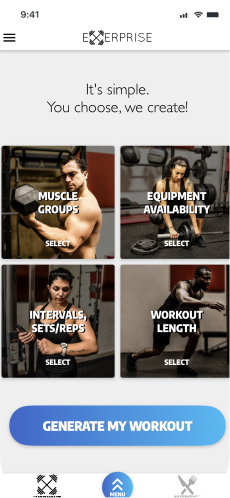 Workout Generator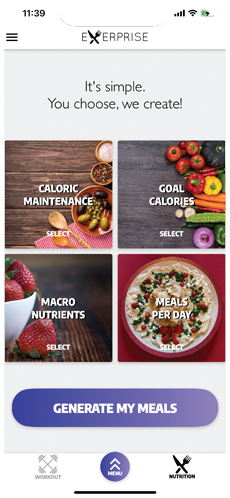 Meal Prep Generator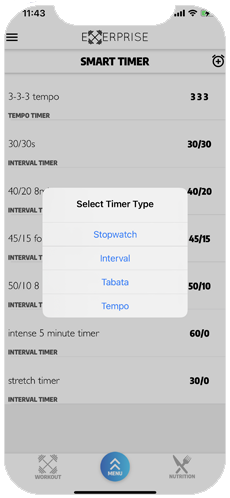 Workout Timer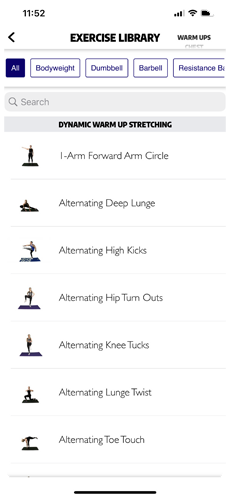 Exercise Library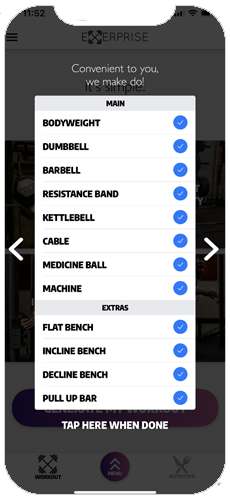 Equipment Selector
Calorie Calculator
Recipe Screen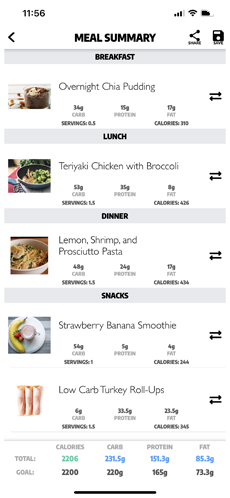 Meal Plan Summary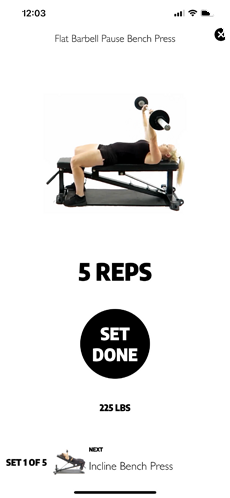 Follow Along Workout
Join the MOVEment.
Thousands of users around the world use EXERPRISE to eat healthy and remain active.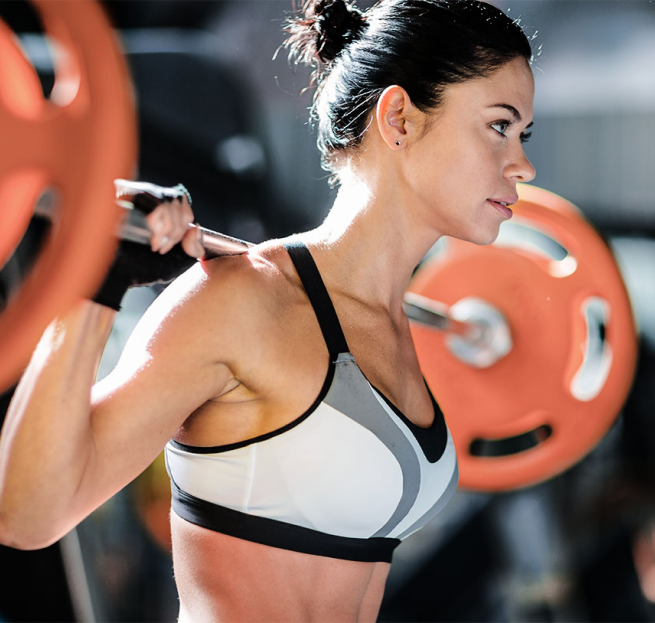 Only my first day with the app. Not looking for nutritional coaching yet, just an exercise generator. I liked the 5 min kettlebell workouts on YouTube, so I thought I'd try it out. I like the customization options so far. Thanks to the developers and owners for the content.
Timothy Richardson
The app gives you the option, to choose your muscle group, your reps and sets or intervals in your workout routine. You're also given the option of equipment you'd like to use including just body weight and the length of time you want your workout to be. You can even replace or switch out certain exercises in the sequence. Above all this app is user friendly, has a fantastic variety of movements , and gives you complete control over your workout.
yomister452
Great app. Great workouts. I'm actually thinking about paying for the premium version. One thing for the developer, the back category mainly shows workouts for middle back and lats. Can you add another category for lower back exercises? That would make the app so much more complete.
Edward Mikolajczak
Seriously this app makes it so easy to workout! No more planning or over thinking what you want to do or what you can do. Don't have weights? No problem. Only have dumbbells? No problem. Want to use a bar? No problem. Want to mix it up with different body parts and cardio but want variety? No problem! Seriously just pick what you have ( weights, time, body part you want to work and intervals) and bam! Instant workout! And each time is different!
Chelsea Tucson
Choosing a selection results in a full page refresh.